I never win anything..UNTIL NOW!
Atlanta, I am back! For the moment, anyway.
Before I get into the trip details and the amazing lil' amuse bouche in the picture above, let me catch up on a couple of things. First, did you catch my guest posts this week? First, I offered some tips on cookie decorating with kids on What's Cooking. Then, sweet, sweet Sarah let me have carte blanche with a post on Sarah Cucina's Bella, so I went with a little Pasta Pizza. Have two words ever sounds so fabulously together?
Lastly, I need to announce the winners of the Hands on Atlanta Birthday Bash Cake Off tickets. Using the online random number generator, twice (the first out of 10 names, the second out of 9), the winners are Maura of 365 Atlanta and Lori of Accro. Congrats to you both! I hope I am able to see you both at some point during the afternoon.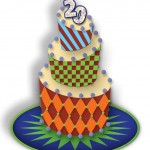 Are you an Atlantan and want to support Hands on Atlanta? Tickets are still available and how worth it are they!? CakeOff participants include pastry chefs from the Ritz Carlton Buckhead, The Cake Closet (@TheCakeCloset), Edible Greetings and Apple Butter Bakery (@ABcCakeShoppe). Judges for the event include Jovita Moore of WSB-TV; Alon Balshan, owner of Alon's Bakery & Market (@AlonsVH); Ceasar Mitchell, Atlanta City Council President, Mary Moore, founder and CEO of Cook's Warehouse (@cookswarehouse), and Elizabeth Moore, president of Green Olive Media (@greenolivemedia). Technical judges include area bloggers and food experts (me) Chris Arpante (Mele Cotte, @MeleCotte), Angie Dudley (Bakerella, @bakerella), and Tami Hardeman (Running with Tweezers, @runwithtweezers). Won't you join us? Check out the HOA site for more details.
Thanks Chris!